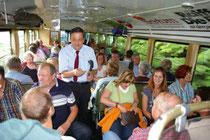 In September 1891 the railroad to the "Erzberg" was opened. It was a cog railroad and steam engines were used on this cog railroad until 1978. The "Erzbergbahn" is without a doubt one of the most beautiful and breath-taking railroad tracks in the whole country. Unfortunately the cog rails were removed, but nevertheless the railroad to the "Erzberg" is the steepest railroad track in Austria. People from all over the world, who like railroads and trains, know this railroad. It was formerly used to transport the ore from the "Erzberg" to the furnaces of Vordernberg and Leoben-Donawitz. When the railroad was no more used, the OEBB (Austrian railways) rented it to a club called "Verein Erzbergbahn". In 2003 the club bought the tracks, the stations Vordernberg and Erzberg and rail busses from the OEBB. So you are still able to go from Eisenerz to Vordernberg via the Erzberg and the Präbichl by the old blue rail busses of the OEBB. The roadway arrangement is unique: six stone viaducts (up to 32 meters high and 117 meters long), five tunnels, which are together 2.5 kilometers long, and an inclination of 71‰. The station Präbichl is situated 1204 meters above sea-level and is therefore the highest situated railroad station in Styria. On the trip with the "Erzbergbahn" you can see the roofs of some villages, intact nature far away from roads, beautiful mountains, some ravines and, of course, the Erzberg.
The landscape was coined by the interaction of nature and technology. It offers adventure holidays as well as relaxing holidays. The "Erzbergbahn" is the perfect start for your personal expedition of the region!
The members of the club "Verein Erzbergbahn" are professionally qualified, but they work voluntarily. Thus, the money you pay for a trip is only used for the maintenance of the track and the rail busses. New members and voluntary workers are always welcomed. For more information, contact us, please.
"Erzbergbahnmuseum"This museum is situated at the station "Vordernberg Markt". The museum shows the history of the "Erzbergbahn". You can learn there something about the construction and operation of the railroad Eisenerz-Vordernberg. Numerous pictures and old manuscripts are available to you. You can have a look at a cog wheel engine and the driver's cab of a steam engine as well as other interesting exhibits from the world of trains. In Vordernberg there is also the strongest, cog wheel operated steam engine of the world.
www.erzbergbahn.at